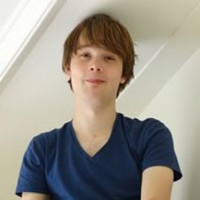 E-mail: e.rossing@ru.nl
Having studied chemistry at the Radboud University Nijmegen, my interest in chemical biology first sparked during my bachelors and masters internship under the supervision of Dr. T. Heise and  Dr. T. J. Boltje. Applying the strategy of targeting sialic acid, which was previously shown by the Boltje Research Group to be relevant in cancer immunotherapy proved to also be fruitful in combating bacterial and viral infections. Metabolic probes/inhibitors, developed in the Boltje Research Group were able to inhibit Influenza reproduction and abolish serum resistance of non-typable Haemophilus Influenzae. [1], [2] After this I stayed in the field of saccharide based therapeutics with a minor at Aspen Oss B.V. under supervision of Dr. E. Kellenbach and Dr. L. J. van den Bos on heparin.
The combination of the world of glycan mediated interactions that are still waiting to be explored and the infectious enthusiasm of my supervisors Dr. T. J. Boltje and Dr. T. Heise inspired me to engage the next challenge of starting a PhD in this group. In the next four years I will apply the tools and way of thinking, developed in the Boltje Research Group, to study and affect new metabolic pathways in health and disease.
---
Publications:
Metabolic Oligosaccharide Engineering with Alkyne Sialic Acids Confers Neuraminidase Resistance and Inhibits Influenza Reproduction. T. Heise, C. Büll, D.M. Beurskens, E. Rossing, M.I. de Jonge, G.J. Adema, T.J. Boltje* and J.D. Langereis*, Bioconjugate Chem. 2017, 10.1021/acs.bioconjchem.7b00224.
Selective Inhibition of Sialic Acid-Based Molecular Mimicry in Haemophilus Influenzae Abrogates Serum Resistance. 

Heise T., Langereis J.D*., Rossing E., de Jonge M.I., Adema G.J., Bull C., Boltje T.J*

, Cell. Chem. Biol., 2018

,

 25,

 1-7. https://doi.org/10.1016/j.chembiol.2018.05.018.