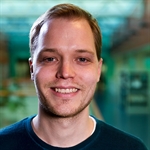 E-mail: t.boltje@science.ru.nl
Tel: (+31) 024-3652331
I obtained my master's degree from the University of Leiden (The Netherlands) in 2007. During my internships I worked in the group of Prof. dr. Gijs van der Marel and Prof. dr. Hermen Overkleeft on the synthesis of complex zwitterionic oligosaccharides, shingolipids and azasugars. Next, I got my PhD in 2011 at the University of Georgia under the supervision of Prof. dr. Geert-Jan Boons. My PhD studies focused mainly on the stereoselective synthesis of glycosidic bonds using chiral auxiliaries. In 2011 I was awarded a NWO Rubicon fellowship and returned to the Netherlands and started my post-doctoral studies in Nijmegen. I worked on the synthesis of sialosides using a modular approach. In 2013 I started my current position as tenure track assistant professor of chemical biology in Nijmegen.
---
Awards
Thieme Chemistry Journals Award 2017
Nominee Molecular Life Science Teaching award  '13-'14 and '15-'16
Nominee Junior Faculty Teaching award  '15-'16
Grants:
2011 NWO Rubicon
2013 NWO Veni
2015 NWO TKI-NCI-KIEM
2015 NWO TKI-NCI-LIFT
2015 KWF (co-PI)
2017 ERC-Stg
2017 NWO TKI-NCI-KIEM
Publications:
Please see the publications tab.
Teaching:
MOL-049, Project Synthese Biomoleculen
MOL-403 Organic Chemistry of Biomolecules
MOL-411 Protein Modification
MOL-053 Pharmacochemistry
Contact:
t.boltje@science.ru.nl
Tel: (+31) 024-3652331
Address:
Radboud University
Huygens Building
Heyendaalseweg 135
6525 AJ, Nijmegen, The Netherlands
Room 03.022